Pengyou from China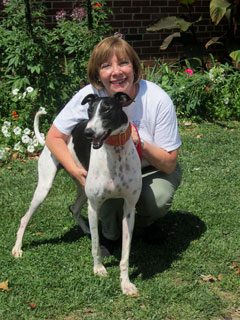 PengYou, meaning "friend" in Mandarin came to TGIE through our adoption partner, American Greyhound.
I received a call from Jeff telling me all about a greyhound that was found and eventually rescued from a flower market in SuzHou, a small suburb of Shanghai China.
PengYou was living in a filthy crate and when a friendly American observed him, she made the owner a cash offer and the deal was made.
PengYou was taken to a vet to receive medical care and American was contacted to take possession of PengYou. Travel arrangements were made for the 13 hour flight to the U.S. and before you knew it, PengYou became an American citizen!
TGIE is happy to have him in our program and to the delight of the entire TGIE team. He is getting lots of love and socialization and training is coming along great.
On 9/7 PengYou will leave the prison and be one step closer to his forever home.