Mobile Track Closing
Our Last load of dogs from Mobile

Gavin, Brooke, Barb and Gaye The Voluteers who made the run to Mobile

We recently received word that the track in Mobile Al. would be closing and 400 dogs would need to find their way to forever homes. We originally thought we would have a couple of weeks to make arrangements to get our dogs for the prison, but received word on Tuesday that the dogs would need to be picked up on Saturday. With this sense of urgency, we partnered with American Greyhounds to join their hauler in Indiana to make the trip to Mobile.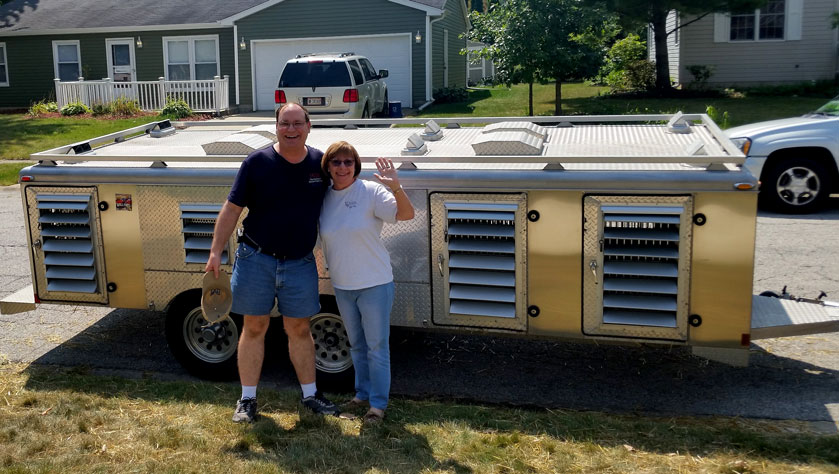 Gaye & Gavin arriving in Indiana for the trip in front of the American Greyhound dog hauler.
The journey started in Dearborn MI. with Gaye and Gavin making their way to Indiana. Four hours later, we met with Jeff's team….Barb and Brooke and set our sights for Mobile AL. Fourteen hours later, we arrived in Mobile and welcomed 20 greyhounds on the hauler, turned around and headed to home.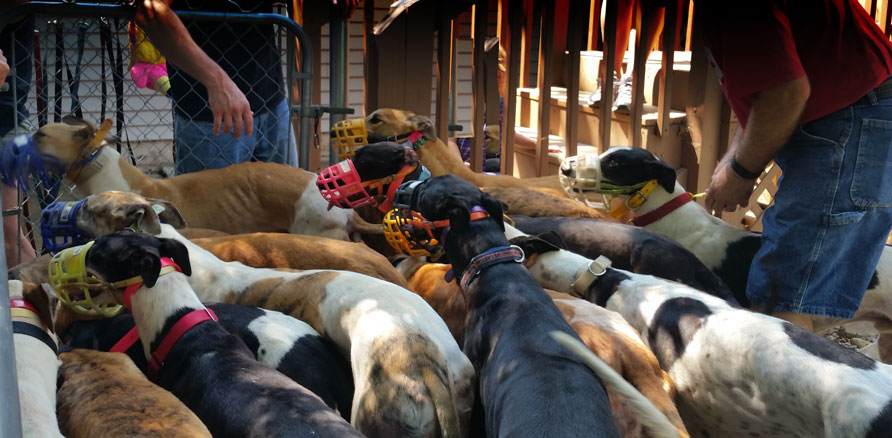 All the dogs in the yard at Jeff's house
Some 36 hours later, Gavin and I arrived back in Dearborn….tired, perhaps a little stinky and yearning for a home cooked meal to counter the truck stop snacks we had become accustomed to.
I'm not going to lie…it was grueling, dreadful, and exhausting…but in the end we were very happy and proud to know we played a critical role so 20 beautiful greys could begin their "journey to be free."